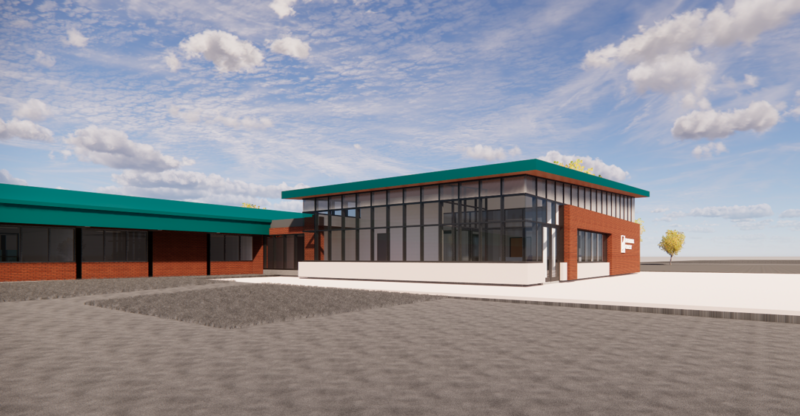 Prairie Crest Elementary will see significant changes starting this summer as part of the 10 year facilities plan to address our three oldest elementary schools, Prairie Crest, Prairie Heights and Prairie View.
Work at Prairie Crest Elementary, which opened in the fall of 1962, will begin immediately at the conclusion of this school year.
Prairie Crest Elementary Building Highlights
New entry/front office addition with new secured entrance and visitor parking and
parent pick-up/drop-off location on the east side of the building
Infilled courtyard to create new project room and music room
Remodel of existing office area into new art room, activity spaces, and wrap
around room
Remodel of old Early Childhood Center wing into new pre-K classrooms
Relocated playground with new equipment
New elevator
Updated finishes throughout the existing classrooms, cafeteria, hallways,
gymnasium
New mechanical and electrical infrastructure, including new mechanical unit for
the gymnasium
Timeline
February 25, 2021 – Bids Received
June 2021 – Begin Construction
Fall 2022– Scheduled to open
Work at our three oldest elementary schools began in the spring of 2019 with Prairie View Elementary School. Work at View included adding interior walls, fire and sprinkler systems, upgrading safety systems, new intercom system and improved secure entrance. Renovations to Prairie Heights Elementary, the district's oldest building constructed in 1954, are expected to be completed this summer. Renovations to Heights include a more secure entrance, new technology, LED lighting, brighter hallways and classrooms, and an upgraded mechanical system. Construction renovations at Heights are to be completed this fall.
"We are excited to deliver on the promise from the February 2, 2016 bond referendum to update our 3 oldest elementary schools," said Superintendent of Schools Dr. Doug Wheeler.  "In addition to the mechanical and environmental updates received by other buildings, Crest will receive exit/entry updates which enhances building safety and accessibility as well as the addition of collaborative spaces for students.  We are excited for this project and what it can do for our students and community."
The College Community School District serves 5,800 students from Linn, Benton, and Johnson counties. The 137 square mile district includes the cities of Ely, Fairfax, Shueyville, Swisher, Walford and SW Cedar Rapids.