Prairie Archives
Burning of the P
The Burning of the P has been a long-standing Prairie homecoming tradition starting with our first graduating class of 1959. Throughout the years, numerous students and staff have been involved with the process to prepare the P. Some years the Burning of the P did not happen due to a variety of circumstances but we are happy that this tradition continues today and is still a favorite part of homecoming festivities at Prairie High School.
Track and Field Day
From the Prairie Archived: Prairie kids have been running, throwing and jumping at Track and Field Days since 1958. Track and Field day started with 3rd through 6th grades at Prairie Elementary. Today, over 1,270 4th, 5th and 6th grade students from each elementary and intermediate school continue this great tradition.
Outdoor Education
From the Prairie Archives: Outdoor Education started in 1960 with 7th graders spending part of a week at Camp Wapsie. It was a time to learn about nature, do teambuilding activities and have fun with your friends. In 2006 Outdoor Education moved to Camp Io-Dis-E-Ca where 7th grade students continue to build memories.
Show Choir Still Shines!
From the Prairie Archives: Show Choir still shines! Prairie High School Show Choir was established as "76th Street Coalition" during the 1970-71 school year. During the 1992-93 school year, the name changed to "Ambassadors". Today Ambassadors and Focal Point involves over 115 singers and band members.

Prairie Heights Playground
From the Prairie Archives: The wooden playground at Prairie Elementary (now Prairie Heights) was built in five days in the fall of 1988 by over 200 volunteers which consisted of parents, community members, staff members and high school students. Over 150 businesses, community groups and individuals donated materials, service and money. After 23 years of great playing, the structure was removed in 2011 due to safety concerns.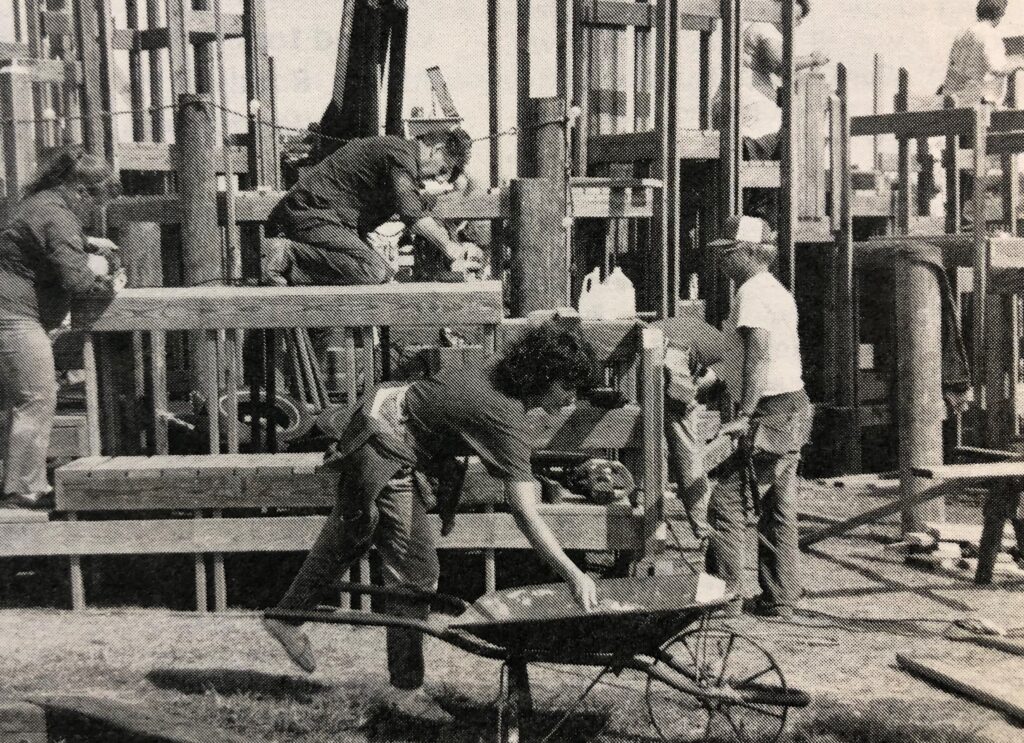 Prairie Football Team Crowned 1981 Class 3A Champs
The 1981 Prairie varsity football team, under the leadership of Head Coach John Oertel, ended the season 12-0, ECIC (East Central Conference) Champs and Class 3A State Champions. Eight players were named to the All ECIC Team and Eight additional players were named to the second team.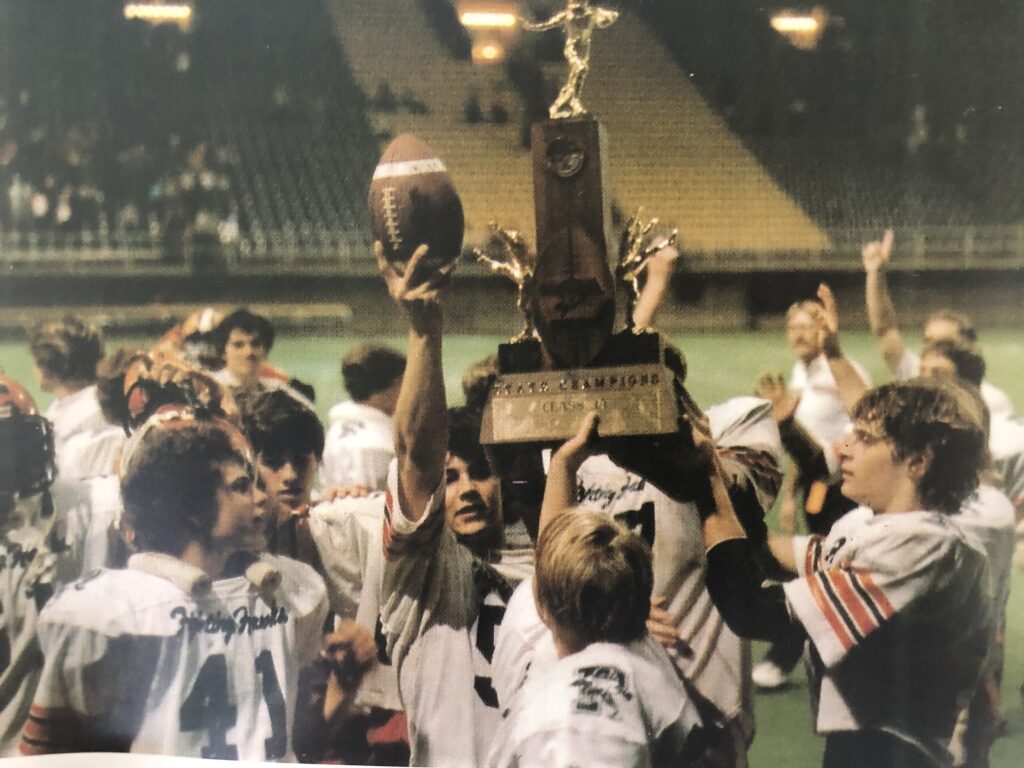 1958 Newsletter
Check out the College Community Schools public newsletter from July 17, 1958. There are some interesting articles on school finances, transportation and the hot lunch program that you might find interesting. By 1958, Prairie was open to all grades K-12 with the 11th and 12th grade students just coming on board that year. The first graduating class of 61 students was in May of 1959.

First Lady Barbara Bush Helps Prairie View Students
In 1992 First Lady Barbara Bush helps Prairie View Elementary School students plant a flowering crab tree on the grounds of PMX Industries.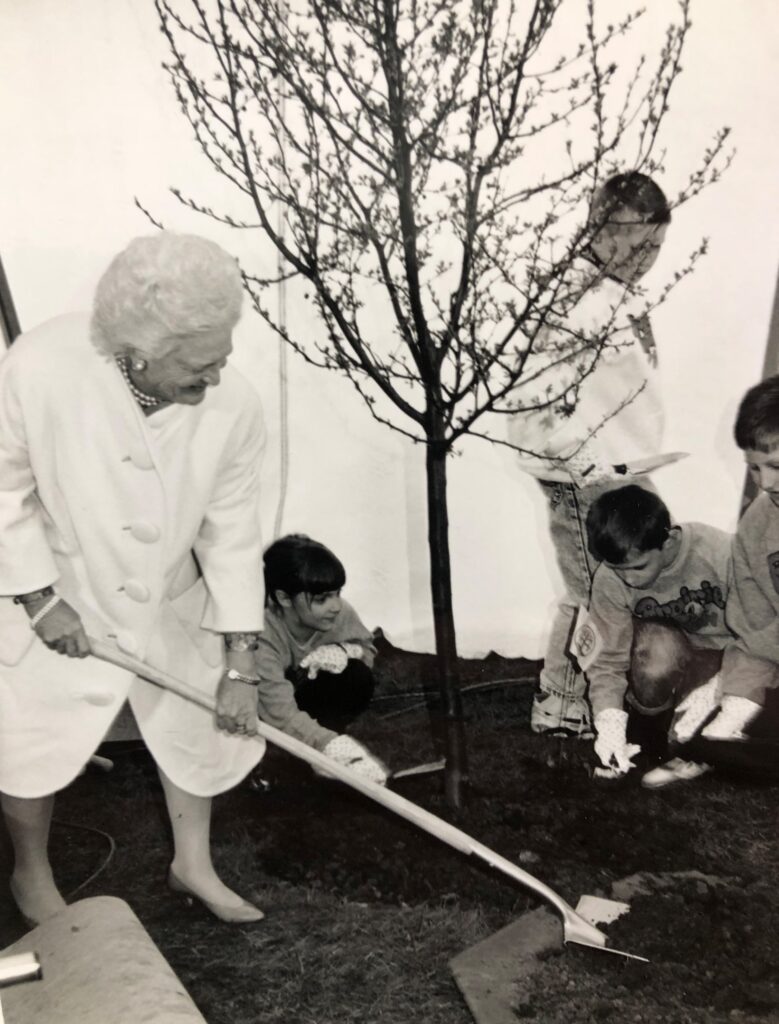 President Dwight D. Eisenhower Flew Over Prairie Campus
In 1958 President Dwight D. Eisenhower sent College Community Superintendent Sam Wiley a letter expressing his gratitude to the students for the heartwarming message they formed when he flew over the school in his helicopter. President Eisenhower was on his way to the National Corn Picking Contest.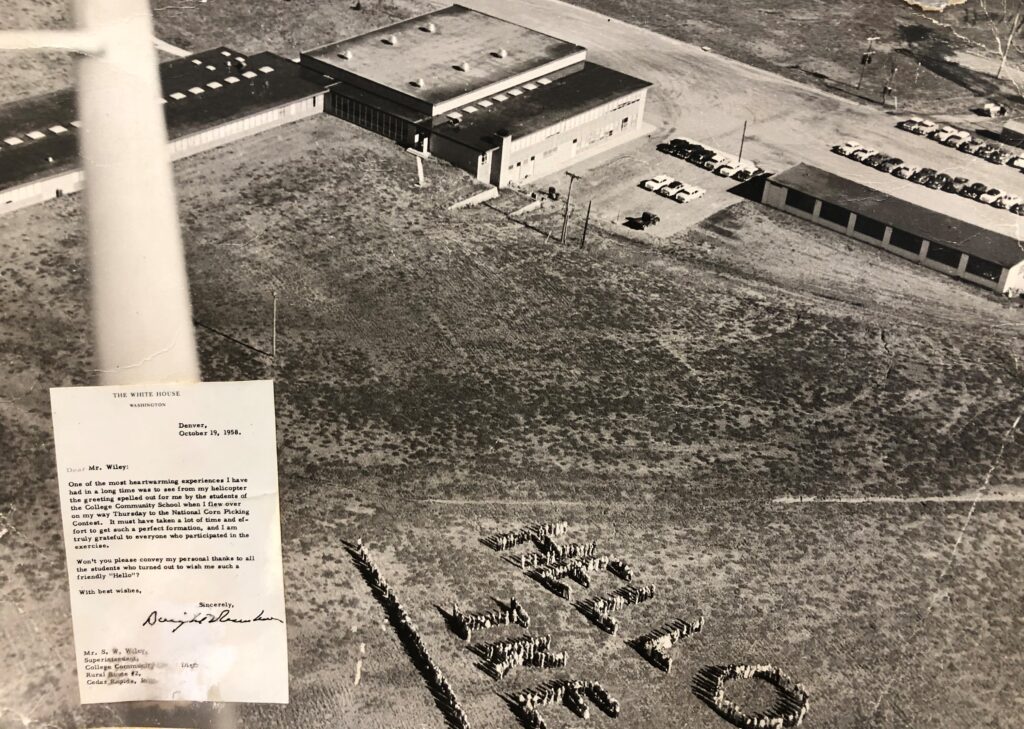 College Community School District Officially Formed in 1950's
College Community School District was officially formed during the 1950's. College Community inherited the College Township Elementary which had just opened in 1953 (located on the north side of 76th Ave. later to be called Prairie Elementary and Prairie Heights). When the doors opened for the 1954-55 school year, enrollment was 100-125. Couple of years later Prairie High School Opened to 350 students. First graduating class was 1959.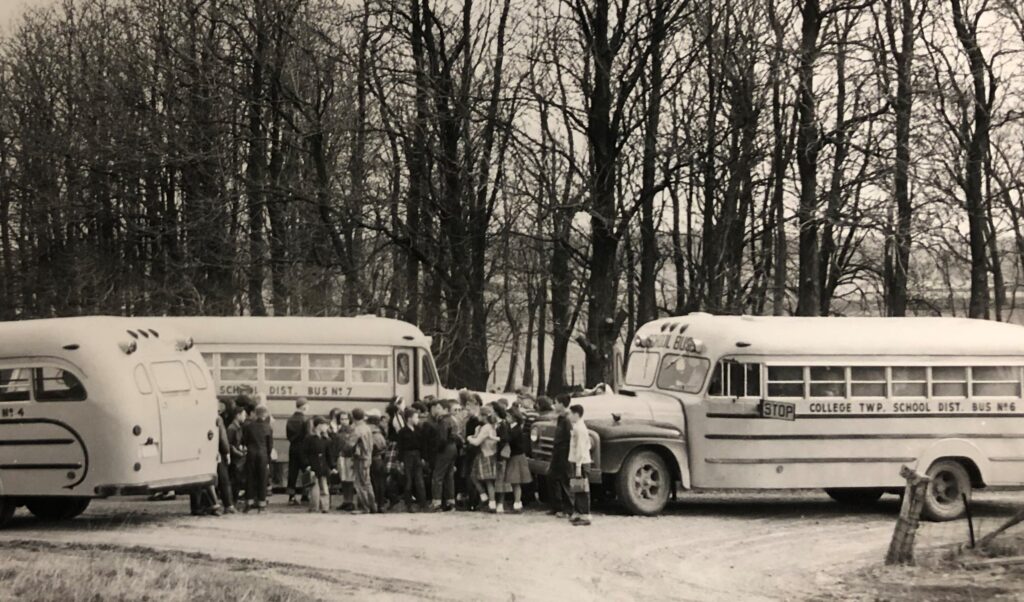 Prairie Lunches in 1955-1956
Prairie Archives: In 1955-56, approximately 125 K-8 students received daily lunches for 25 cents. Today, College Community serves on average 4,200 lunches daily at $2.80 for students in grades K-4, $2.90 for students in grades 5 & 6 and $3.05 for students in grades 7-12.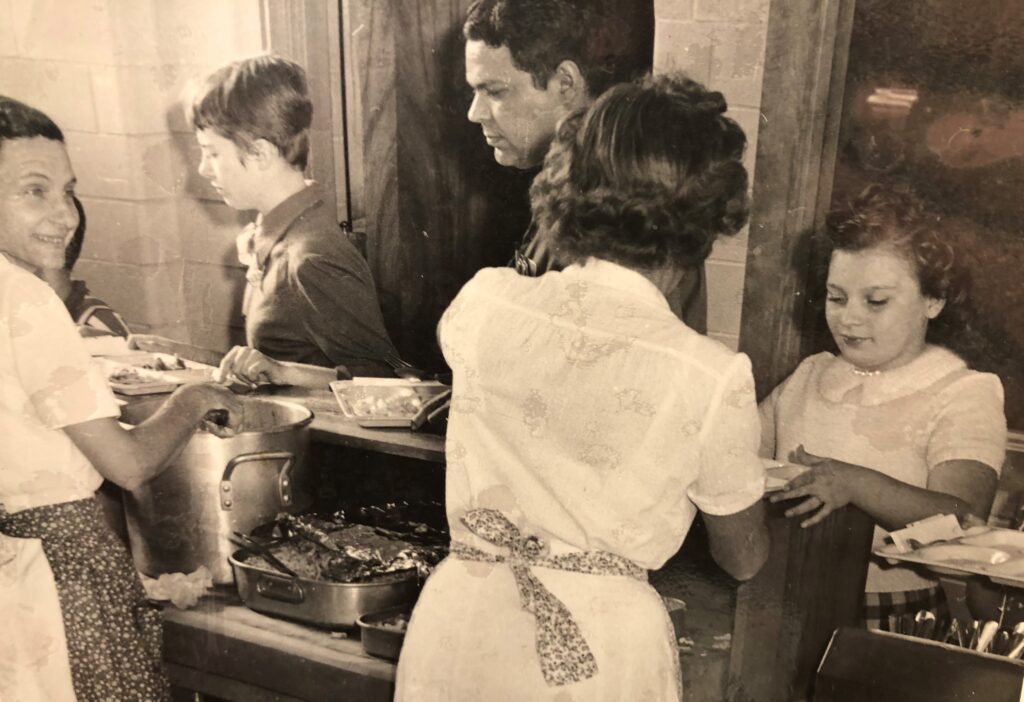 Transportation Fun in the 1950's
Prairie Archives: Check out some fun transportation photos from the 1950's. Community School District was officially formed during the 1950's with the first graduating class in 1959.
Silver Medalist & 1980 Prairie Grad Barry Davis Honored at Prairie
Prairie Archives: 1984 Olympic Silver Medalist and 1980 Prairie grad Barry Davis was back to participate in a school assembly in his honor. Davis was a four time NCAA Division I All-American, and a three-time NCAA Division I National Champion and was named NCAA Outstanding Wrestler in 1985. Barry Davis' career record at Iowa was 162-9-1. Standing alongside Davis was teachers Darrel Bogner and Roger Stigers.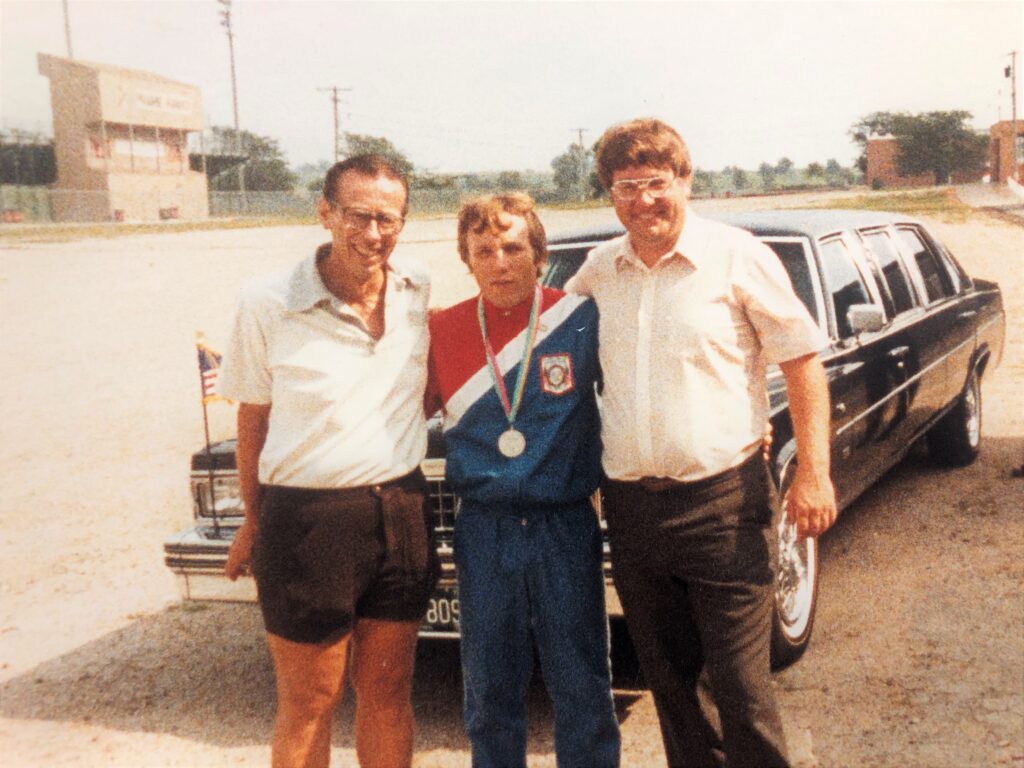 Channel One Broadcasting System
In October 1991, Librarian Sylvia Ralston prepares Channel One for classroom viewing by Prairie Junior High students. Channel One was an educational broadcasting system bringing 12 minute daily news broadcasts featuring current events from a teen student's perspective.