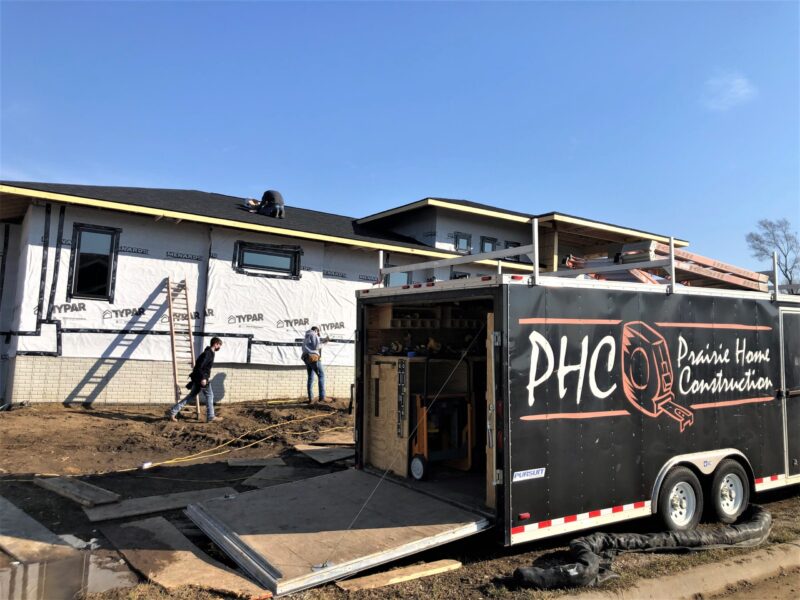 Eighteen Prairie High School students are currently constructing a home located at 1985 Fox Ridge Road in Ely, Iowa as part of Prairie's Home Construction program.
This home will have a variety of features you'd come to expect in our school community. It sits on a corner lot and will be on the market this summer.  What might not be apparent is that the home serves as a classroom where students learn how to cut, install, measure, and decipher architectural plans and learn from professionals in a variety of skills trades.
"The Prairie Home Construction Program provides students with unique learning experiences," said instructor James Nelson.  "The training and skills our students receive helps provide opportunities for a potential career path. The program also offers students an opportunity to work alongside professionals in the industry which gives them a practical edge when deciding their futures."
College Community Schools is continuing to look for ways to expand course offerings in Agriculture, Business, FACS, Healthcare, and Industrial tech to help prepare students for careers upon graduation.
Darryl High, Owner of High Commercial and Residential Property Management, along with Superintendent of Schools Dr. Doug Wheeler and Eric Townsley, Executive Director of Information and Technology toured the student built house on Tuesday, March 9. "This was a great opportunity having Mr. High visit our school and home construction program," said Wheeler. "We were able to showcase our industrial technology career academy and make a positive connection with a local leader in the industry."