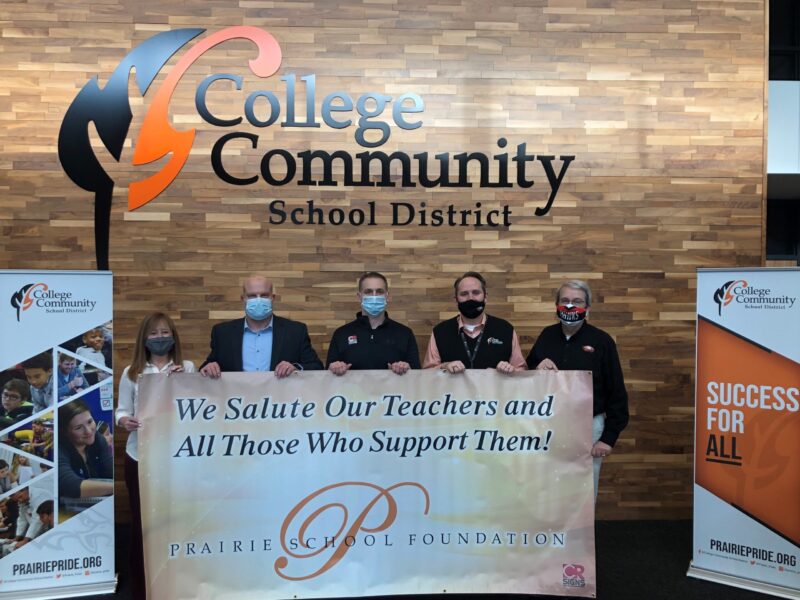 Several weeks ago the Prairie School Foundation Board began to explore ways they could honor the Prairie school employees who have worked so hard to meet the needs of students during the challenging times of the COVID–19 Pandemic.  One of our board members, Erikka Vosmek, suggested her husband, Aaron Vosmek, who is President of CR Signs might be able to help out.  Not only were Aaron and his company willing to design and produce original banners, they offered to donate the them to the foundation, a $2,400 value, at no charge.
The banners will be displayed at each of our schools including facilities/transportation and the District Office.  Typically, the Foundation focuses on the purchase of educational materials, programs or equipment to enhance the education of Prairie students.  However, in these most unusual times, the Board wanted to assure all the Prairie Hawk Staff that their work for the benefit of our Prairie Kids deserves special recognition and appreciation from all of us.  The Foundation is grateful for the generosity of CR Signs in this effort and hopes the Prairie Community will join us in thanking the staff at College Community Schools.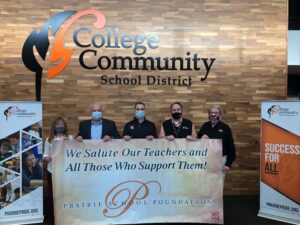 Representatives of the Prairie School Foundation Board and the College Community School District get a first look at banners to be displayed on campus.  Left to right:  Julie Kelly-Molander, President Elect, Foundation Board; Steve Howes, President, Foundation Board; Aaron Vosmek, President, CR Signs; Dr. Doug Wheeler, District Superintendent and Randy Bauer, School Board President.