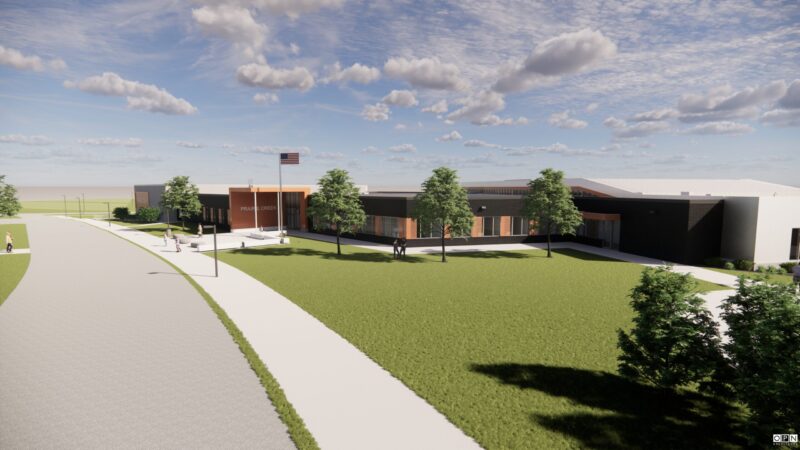 March 3, 2021 marks the one-year anniversary of the passage of the bond issue to construct a new 5/6 building on 80 acres directly south of Prairie Point and repurpose Creek (9th Grade Center and district wide programs).  Voters in the College Community School district overwhelmingly approved a $54 bond with more than 84% approval.  The passage of the bond allows the district to complete its 10-year facilities plan.
Since the March 3, 2020 passage of the bond, the programming and design phases began immediately with OPN Architects. As part of the building process, the district secured an agreement with Carl A. Nelson & Company, which is a construction management company. "Due to the size and scope of the project, as well as the number of construction projects going on in the District, we felt that using a construction manager would give us better oversight on this project as well as potential cost savings," said Chief Financial Officer Angie Morrison. "The construction manager is solely a representative for the owner which differs from a general contractor."
NEW PRAIRIE CREEK 5/6 BUILDING HIGHLIGHTS
189,500 SF building designed specifically for 5th and 6th grade students.
Eight neighborhoods with seven classrooms, restrooms, lockers, and collaborative learning spaces.
A single, dividable gymnasium with three middle school courts or one high school sized court, two art classrooms, instrumental music, vocal music, and general music rooms, and a media center.
Separate, secure entrances for activities and academics
FEMA rated storm shelter
Natural lighting throughout the building
Geothermal
TIMELINE:
March 19 – Completion of Construction Documents
April 20 – Conclusion of Bidding
May 2021 – Begin Construction
Fall 2023 – Scheduled to open
"We are excited to begin sharing details of the new Prairie Creek," said Superintendent Dr. Doug Wheeler.  "The visioning and prioritization of this project reflects the needs of our students and priorities of our community.  We are very thankful to our voters for supporting this much needed project.  Our focus in the design process has and always will be the needs of students both now and in the future, this will be a learning environment that will enhance the quality learning experiences for students."
The College Community School District serves 5,800 students from Linn, Benton, and Johnson counties. The 137 square mile district includes the cities of Ely, Fairfax, Shueyville, Swisher, Walford and SW Cedar Rapids.