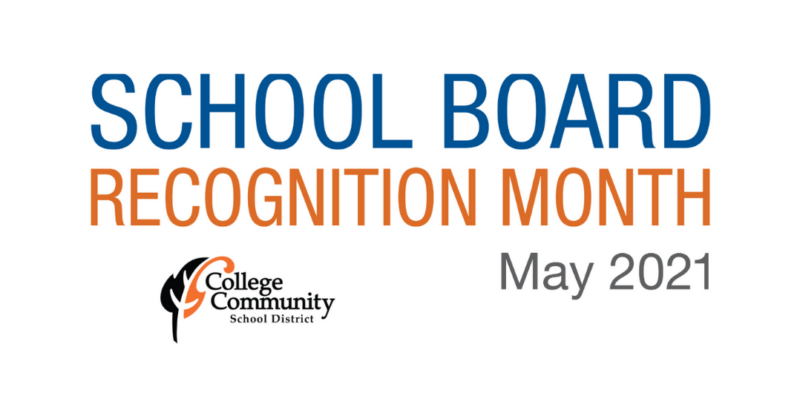 The Iowa Association of School Boards has designated May as School Board Recognition Month, this year recognizing their work in 'Leading Through Uncharted Waters.' As citizen leaders, College Community Board members face complex and demanding challenges yet few people fully understand the scope and far-reaching implications of their responsibilities. Over the past year, leadership at the Board table has come with challenges and decisions no one could have anticipated. School Boards have made tough choices that impact the health and safety of students, staff the school community, while continuing to prioritize student achievement and educational equity.
Board members are locally elected, non-salaried public officials entrusted with the task of providing the direction for the education of students across Iowa. Serving on the College Community School Board are Randy Bauer, Angie Ehle, Todd Hahlen, Jim Hodina, Greg Kelsey, Dawn Kousheh, and Jed Peterson. Although they wear many hats in the workday world, School Board members put on a collective hat when they get down to the business and innovation of charting the course for their school district.
The seven members of the College Community School Board establish a vision for the education program, design a structure to achieve that vision, ensure schools are accountable to the community, strongly advocate continuous improvement in student learning, and create a positive atmosphere for the entire district. To accomplish these goals, Board members contribute thousands of hours each year leading their districts. Whether it be crafting policies, analyzing data, hiring administrators, listening to school concerns, or advocating with legislators, Board members always keep their eyes on the goal of student achievement.
"School Board service is one of the toughest volunteer roles there is, especially navigating through a variety of challenges brought on by the COVID-19 pandemic," said Superintendent of Schools Dr. Doug Wheeler. "Their commitment to our vision, student achievement and our entire school community is unmatched."
Please join the College Community School District in saying THANK YOU to our Board members who lay the foundation for excellent educational opportunities for all Prairie students!
K-12 Public School Board Data
Board Seats in Iowa…………………. 1,893
Male Board Members……………….. 57%
Female Board Members……………. 43%
Five member Boards………………… 215
Seven Member Boards……………… 112
Student Enrollment 2018-2019……. 487,651
School Districts……………………. 327